An MHSAA pre-participation sports physical is required for all students who participate in sports in 2022-2023 . A valid 2022-2023 physical examination must be completed on or after April 15, 2022.
We must have a physical on file before students can begin practice. High school fall sports practices begin Monday, August 9th. Middle school fall practices begin Monday, August 23rd.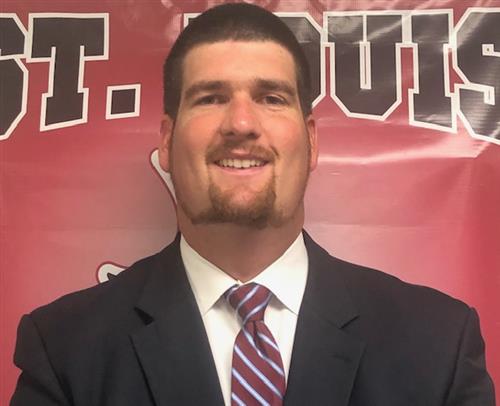 Athletic Department
Athletic Director: Bryan Anderson
Athletic Department Phone: (989) 681-5405 / Fax: (989) 681-4535
Office Hours: 8:00 a.m. - 4:00 p.m.
Email: banderson@stlouisschools.net
Follow St. Louis Sharks Athletic news, updates, and information on Twitter @STLSharks and Facebook @StLouisSharksAthletics
Mission Statement (Why do we exist?)
We exist to foster the growth of our student athletes physically, emotionally, socially, and intellectually while functioning as a community of one.
Strategies (How do we accomplish this?)
Work ethic

Encouragement

Relationships

Lifelong learning
Vision (Where do we want to be?)
St. Louis Athletics is a program of ONE, working together for the purpose of developing young men and women to be outstanding students, multi-sport athletes, and members of our community. This includes a culture of collaboration, growth, and shared success.
The Athletic Office is located at St. Louis High School, in the Main Office.
Pay to Participate
All athletes are required to pay a $10 Pay-To-Participate fee per sport prior to the first competition. Middle School athletes are required to pay $5. Payment can be made directly to the athlete's coach or in the athletic office. Athletes will pay for the current season only!!
2022-2023 Athletic Passes
**Below, there is information regarding athletic passes as well as an opportunity to work for a pass.**
Here are the prices:
Family Pass: $225

Adult: $75

Student: $60
Please fill out the form below to buy a sports pass:
Passes are good for all home games (except MHSAA postseason events) at St. Louis High School and TSN.
There is also the option to work for an athletic pass. If you are working for a family pass, the members in your household will have to earn 18 points. If you are working for an adult pass, you will have to earn 8 points. Students must earn 6 points.
Weekday Event Points:
Concessions=2, Scorebook=1, Scoreboard=1, Tickets=1, Line judges=1, Announcer=1, Track Events=1
Half Day Weekend Event Points:
Concessions=3, Scorebook=2, Scoreboard=2, Tickets=2
Full Day Weekend Event Points:
Concessions=6, Scorebook=4, Scoreboard=4, Tickets=4, Track Events=4
If you are interested in working for a pass, please click on the link below to download a form. This form must be filled out and turned into the Athletic Department.